Research Report: 250hp+ tractors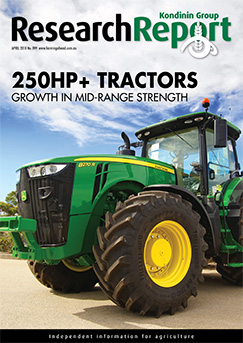 Published: April 2018

Overview
Kondinin Group's Research team of Ben White, Mark Saunders and Josh Giumelli take a look at the latest offerings for farmers when it comes to front-wheel assist tractors of around 250-300hp (186-224kW). We've got in and around seven brands of tractors which according to our National Agricultural Survey, are the most popular with our members.
Author: Kondinin Group Research Team
NOTE: This report is delivered as a digital PDF document. Whilst completing your purchase you will set up login details and following payment will be directed back to the Farming Ahead website where you will be able to login and download the full version.