Research Report: High speed discs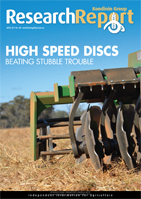 Published: April 2017

Overview
Zero-tillage farming has delivered farmers huge benefits, but also some challenges. These include soil-based challenges, for example, lime incorporation to aid amelioration at depth, weed resistance to chemicals and the ability to handle stubble.
These challenges have seen some of the industry's most avid no-tillers look to options to solve these problems, including strategic tillage. Leading the pack of tillage tools is the high speed disc tiller, which has seen exponential growth in sales over the past five years. Kondinin Group's resident machinery researchers profile equipment and owner experiences of the ever-expanding range of disc speed tillers.
Author: Kondinin Group Research Team
NOTE: This report is delivered as a digital PDF document. Whilst completing your purchase you will set up login details and following payment will be directed back to the Farming Ahead website where you will be able to login and download the full version.