Research Report: Large Square Hay Balers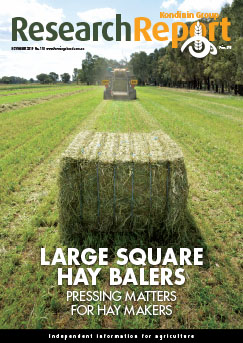 Published: November 2019

Overview
Kondinin Group has looked at five of the latest high density large square balers.
The past decade has seen the birth of high-density balers and today, these have been trumped with the development of 'ultra' high density models capable of punching out bales in excess of 800kg (sometimes at a rate of 60-80 bales per hour).
Author: Kondinin Group Research Team
NOTE: This report is delivered as a digital PDF document. Whilst completing your purchase you will set up login details and following payment will be directed back to the Farming Ahead website where you will be able to login and download the full version.