Research Report: Grain Aeration Systems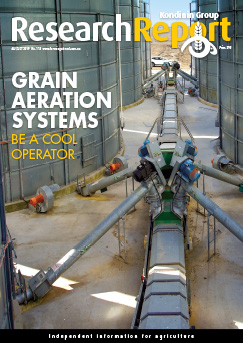 Published: August 2019

Overview
Grain storage expert Ben White lays down the law on grain aearation in silos.
Aeration can be a powerful tool in the arsenal for growers storing grain on farm and an important option for maintaining the quality of grain in storage.
The storage of products like oilseeds and pulses can benefit significantly from the use of aeration and for longer term storage, aeration of these commodities is essential. But uptake and knowledge of the methods and benefits of aeration around Australia varies.
In this Research Report, Kondinin Group engineer and GRDC grain storage specialist, Ben White, explains the benefits and considerations of stored grain aeration.
Author: Kondinin Group Research Team
NOTE: This report is delivered as a digital PDF document. Whilst completing your purchase you will set up login details and following payment will be directed back to the Farming Ahead website where you will be able to login and download the full version.