Research Report: AgriTechnica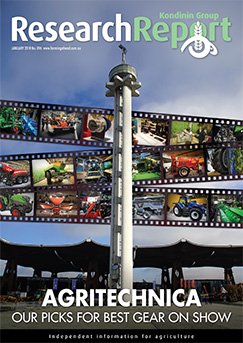 Published: January 2018

Overview
It is fair to say Australian farmers face a lot of challenges in their day-to-day operations. Apart from managing all of the regular jobs such as seeding, harvesting, shearing or spraying, they are also faced with the roles of staff manager, weather forecaster, risk manager and grain marketer.
The Kondinin Group Researchers take a look at the latest machinery and products from AgriTechnica.
Author: Kondinin Group Research Team
NOTE: This report is delivered as a digital PDF document. Whilst completing your purchase you will set up login details and following payment will be directed back to the Farming Ahead website where you will be able to login and download the full version.